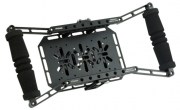 Proaim Director's Monitor Cage
ที่ยึดจอมอนิเตอร์รองรับจอขนาด 5 - 7 นิ้ว พร้อมเพลทติดแบต V-Mount ด้ามจับสองข้าง และสายคล้องคอ สะดวกในการเคลื่อนย้าย มีช่องสำหรับเสียบเข้ากับขาไฟได้ทันที
A Director is the creative driving force in a film's production. He is the one who visualizes the film, defines the style & structure of the film and finally brings it to life. To achieve this, he needs to keep an eye on every detail of every shot - this makes it essential to place a dedicated monitor in the Directors' hand. So, Proaim Directors' Monitor Cage is built to

• Provides flexibility to keep a check while on the move
• Keeps the monitor protected
• Accessorize the cage

Specifications
-  Construction : High grade Aluminum
-  Compatible Monitors:
         SmallHD DP4, DP6, AC7, DP7
         TVLogic VFM-056W/WP, VFM-058W
         Ikan D5, VK7i, VH8, VL5, VX9e
         Odyssey 7, 7Q Atomos Samurai, Ninja, Shogun
         Blackmagic Video Assist, Blackmagic Video Assist 4K
         PIX- E5 / 5H / E7 And many more
-  LCD Monitor Mounting: 4" to 7"
-  Mounting threads: 1/4"-20 & 3/8"-16
-  Weight: 860g (1.8 lbs)
-  Dimensions : 12 inch x 2 inch x 6 inch
Included
-  Proaim Director's Monitor Plate
-  V- Mount Battery Plate
-  2 x Main Bracket
-  2 x Handle
-  4 x Side Bracket
-  Screws
-  Neck Strap
-  2 x Offset Adaptor
-  2 x Post
Features Designed for Director's Ease
Solid Construction

Aluminum construction keeps the cage lightweight yet durable. It is designed to keep your monitor protected.
Compatibility

The 4" to 7" adjustable design of the cage lets you use a wide range of monitors.
Comfortable Grip

Soft foam padded grip on the handle lets you have a comfortable hold on the cage during long hours of shooting.
V-Mount Battery Plate

The cage provides you with the option of mounting a V-Mount or a Gold Mount battery so that your monitor never runs out of power.
Mounting Points

You can easily mount accessories like sun hood, wireless receiver, and other accessories.
Keeps You fatigue Free

The cage comes with neck strap and with an option to mount it on any C-stand.
IMAGE GALLERY


The Supportive accessories are for demonstration purpose only.