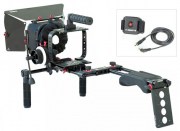 FILMCITY Adventure Rig Kit for Blackmagic Cinema Camera
SHOULDER RIG
ANTI-SLIP RIG HANDLES (Revised on 24-01-2017)

Anti-slip Rig handles gives you a powerful grip so you don't have to worry about slippage. The handles can also be adjusted according to your requirement.




STEADY SHOULDER PAD

Snug fit soft shoulder pad reduces strain on the shoulders & makes long hours shoots absolutely comfortable.




CNC MACHINED BATTERY MOUNTING PLATE

This sturdy plate has multiple screws to mount different types of power supply system or battery plate. Moreover, when mounted with battery, the same will act as counterweight for the rig.




TRIPOD COMPATIBLE

The rig can be attached on a tripod with provided ¼"-20 & 3/8"-16 holes at the bottom of camera base plate.




FILMCITY SLEEK CAGE 

The aluminum constructed cage closely wraps the camera to maintain its beautiful natural form factor while providing complete security and support with minimal bulk and size. The custom designed cage lets you access all the ports, functions, buttons & doors on the camera. The robust top handle enables comfortable handheld operation. Multiple slots on the cage provide option to accessorize your setup.
Durable handheld convenient design
MATTE BOX
MB-600 matte box is designed for all cameras with normal and wide-angle lenses up to 95mm diameter. It functions as a lens hood which eliminates unwanted lens glares.
HS-2 FOLLOW FOCUS
HS-2 follow focus performs precise focus pulls to ensure each shot is as crisp and in focus as possible. CNC machined from aluminum provides you with years of successful operation. It allows right and left operation by switching drive gear.
COMPLIMENTARY ITEMS!
V-REMOTE CONTROL

It lets you free your hands from camera; remotely start & stop video; trigger the shutter whenever and wherever you want. It is highly sensitive, has a long distance range, and is easily operated.




'Z' Bracket

This bracket is compatible with 15mm rails that allows you to center align the camera for better eye line contact with your camera's LCD.




IMAGE GALLERY
Amazingly featured with quality and stability
The Supportive accessories are for dem