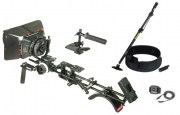 Camtree Hunt FS-700 Advanced Shoulder Kit for Sony NEX-FS700
CAMTREE Hunt FS700 Advanced Shoulder Rig Kit is full fledge filmmaking kit for shooters on the move who need reliability, functionality and above all performance to satisfy demanding creative needs. It has CNC made camera cage specifically designed for your Sony NEX-FS700 Camera which turns it to a production ready tool. FS700 baseplate allows you to achieve perfect balance for handheld use or on a tripod. There is lot more in the package, an impeccable follow focus for precise focus pulls, matte box for cinematic effects, a shoulder support rod that distributes weight of rig equally for stress free shooting and an evf mount to mount any evf to your camera.
CH-1 SHOULDER MOUNT RIG
FS700 TOP CHEESE PLATE
This kit includes the Sony NEX FS700 top mount cheese plate with a top handle and accessory mounting holes. The handle on this plate is 360 degrees rotatable.
FS700 BASE PLATE
You can configure the all-new FS700 baseplate in many ways allowing shooters to achieve perfect balance for handheld use or when on a tripod.
SOFT GRIP HANDLES
Fully adjustable CNC machined handle set with soft rubber & anti-slip universal hand grips that have dual lock for 15mm/19mm rail systems. Our dual jointer video rig handles can be adjusted to any angle using the provided Arri standard rosette lock for different shooting scenarios.
FS700 SHOULDER PAD
Shoulder Pad is provided for comfort and stable shooting with ribs for unique feel of grip when you have to shoot for long hours.
ROD EXTENTION ADAPTER
It allows you to connect any of our threaded 15mm rods together. Easy connection, simply screws it to one rod firstly, and then connects the second rod and it's done.
VERSATILE BATTERY PLATE 
An adjustable mounting system for V-Mount and other batteries. Several 1/4"-20 threaded holes allow attachment of rod clamps, cheese plates, and more. You can tilt the battery plate or can slide up-down using the provided adjusting knobs.
Masterfully engineered MB-20(CF) matte box with full swing away feature and French Flags enables the user to get cinematic effects. The Foldable French flags with side flags results in efficient light control and knicker to block the light completely.
-  Its Lightweight, rugged construction accommodates most DSLR/M wide angle lenses.
-  Built in filter holders for advanced image capture. 180 degree rotation of 1 stage filter and 1 is Static. 
-  Height adjustable up to 3cm to match the camera lens
Make your craftsmanship more effective with MB-20(CF)
HS-1000 FOLLOW FOCUS 
Most durable and precision machined Aluminum constructed HS-1000 follow focus allowing you to smoothly and accurately pull focus from different place on the camera with gear rings, industry standard 0.8 module. 
- Integrated A/B hard stops for accurate focus racking between two focus points. 
- Interchangeable Drive Gears for right hand and left hand operations.
- Magnetic marking disk enables to view your focus marks from various angles. 
CAMTREE MOUNT EVF MOUNT
It's a compact and versatile mounting system that allows you to mount almost any EVF on to a camera. This mini-mount provides a secure, lightweight interface that allows vertical adjustment for comfortable 'eye level' viewing.
CNC constructed ideal for any EVF
Absolutely Free!
SHOULDER RIG SUPPORT ROD
The Telescopic Extension rod stabilizes the front weight of the Camera rig and distributes it equally for stress free shooting. The support rod can be locked for long static shots or unlocked for smooth suspended tilts, pans, smooth walking shots or any other camera maneuvers.
Super Comfortable gadget for longer shooting hours
V-REMOTE CONTROL
V-Remote control is designed to take videos more conveniently. It's highly sensitive, has a long distance range, and operates easily. It's pretty easy to use; simply attaches to the handle of your rig via its Velcro strap. Free your hands from camera; remotely start & stop video; trigger the shutter whenever and wherever you want. 

Note: V remote control is compatible with any camera having 2.5 mm jack plug.
Fits most rig handles, V-Remote can also be held in your hand
STORAGE CASES
IMAGE GALLERY
Enables the video professional to maximize coverage in every shot