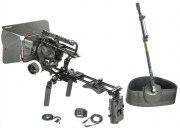 Camtree Hunt FS700 Cage kit for Sony NEX-FS700
CAMTREE Hunt FS700 Cage kit isfull fledge filmmaking kit for shooters on the move who need reliability, functionality and above all performance to satisfy demanding creative needs. It is a CNC made camera cage for your FS700 Camera which will turn it into a production ready tool. The robust cage provides infinite combination of mounting points for monitors, lights and more along with a top handle.
This functional unit fits snuggly to your camera leaving all the camera's vital features easily accessible. You can configure the all-new FS700 baseplate in many ways allowing shooters to achieve perfect balance for handheld use or when on a tripod. A Slip less Shoulder Pad ensures comfort and stable shooting for long hours. There is lot more in the package, an impeccable follow focus for precise focus pulls, matte box for cinematic effects, alemo splitter that acts as a counter balance and is a power source too.
INCLUDED
-  FS700 Cage 
-  Set of Rosette Handles 
-  Shoulder Pad 
-  Shoe Mount (Added on 04-Aug-2016) 
-  MB-20 Carbon Fiber Matte box for FS700 with Knicker (Revised on 13-May-2016) 
-  HS-1000 Follow Focus (Revised on 07-July-2016) 
-  Lemo Splitter 
-  FREE shoulder rig support Rod
-  FREE V-Remote Controller (Added on 09-Sept-2016) 
SPECIFICATIONS
-   Construction - Made from CNC
-   Mounting rods are aluminum - precision made to standard specifications
-   Top rods provided for optical center
-   Threaded screw mounts of 1/4 ''-20 & 3/8 ''-16
-   15mm Aluminum Rails
-   Center to Center span of 60mm
HS 1000 FOLLOW FOCUS
-  Gear Arm adjustable distance - 5.5 cm
-  Fit Rail Distance - 60 mm
-  Fit Rail Diameter - 15 mm
-  CNC made Aluminium Construction
-  Nylon gears and ABS 360 degree Dial Index Adjustment. 
-  Product Weight - 640 gm/1.408 lb 
FEATURES
- Specifically designed to work with Sony FS700 Camera 
- Provided Cage bracket for lens support
- Comfortable shoulder pad - easily removable
- Quality crafted for durable long life service
- Versatile, lightweight, affordable and best of all
- 100% Satisfaction Guarantee
FS700 CAGE
The FS700 cage kit from Camtree is designed for use with the Sony FS700 camera. This lightweight, professional quality FS700 cage delivers stable shots, fast setups, and quick change on and off the tripod.
Unexampled Cage with Quality at its Best
HS-1000 FOLLOW FOCUS (Revised on 07-July-2016)
Our HS-1000 follow focus allowing you to smoothly and accurately pull focus with cinema and DSLR lenses equipped with gear rings. Integrated into the follow focus are hard stops, letting you set start/end points on DSLR lenses for quick focus racking between two focus points. Additionally, the follow focus features movable focus indicators which allow to pull focus from different place on the camera. It assists in preventing obstruction of the view during lens adjustments and allows you to create more complex shots and scenes. The included magnetic marking disk enables to view your focus marks from various angles. Elevate your craft, create awesome shot effects and professional-quality results.
FEATURES
-  Professional grade construction 
-  Sturdy built for low backlash 
-  Designed for Smooth and Precise Focusing 
-  Friction Adjustment Knob 
-  Integrated A/B hard stops for accurate focusing 
-  Speed crank for precision-controlled manual focus racking 
-  Gear can also be changed from side to side 
-  Quick Mounting Technique 
-  Easy Gear Arm adjustment 
-  Allows extremely focusing lenses to be geared and used with Follow Focus industry standard 0.8 module.
Masterfully engineered Matte Box 20(CF) with full swing away feature and French Flags enables the user to get cinematic effects. It is completely adjustable and can be altered according to the requirement. Compatible enough to go with any other accessory. A masterpiece with quality worked upon is a perfect companion for your kit. 
according to the requirement. Compatible enough to go with any other accessory. A masterpiece with quality worked upon is a perfect companion for your kit.
Make your craftsmanship more effective with MB-20(CF)
LEMO SPLITTER
The Lemo power splitter for Sony FS700 camera is capable of tilting up and down, allowing for a configuration that meets the needs of your camera rig set-up. By mounting it on your camera rig, you can effectively create a perfect counter balance for your camera, helping the balance of the rig. In addition, all devices such as LED lights, mics, monitors, camcorders and other equipment's can also be powered from a single source. It mounts securely onto any industry standard 15mm rail system with center to center distance of 60mm.
DC POWER CABLE FOR FS-700 CAMERA
DC Power Cable For FS-700 Camera ensures high-speed and error-free data transfer. This power cable is made from an ultra light, yet durable cable connectors.
FREE SHOULDER RIG SUPPORT ROD
The Extension rod carries the front weight of a DSLR rig and transfers it to the hips. It stabilizes your DSLR rig for all kind of shots by vanishing the harsh bumps while tilting or panning the shoulder rig a bit. Constructed from aluminum, it is designed with dual damping spring to absorb shock while shooting on the field. It is compatible with all kinds of 15mm DSLR Rig Shoulder Mount. The comfortable padded waist support belt is a unique solution for the common arm stress and fatigue result of the extensive use of "front heavy" full size shoulder camcorders. The support rod can be locked for long static shots or unlocked for smooth suspended tilts, pans, smooth walking shots and any other camera maneuvers.
Super Comfortable gadget for longer shooting hours
FREE V-REMOTE CONTROL 
Added On 09-Sept-2016
V-Remote control is designed to take videos more conveniently. It's highly sensitive, has a long distance range, and operates easily. The start/stop button mounts conveniently on handle of your rig via its Velcro strap. It's pretty easy to use; simply attaches to the handle of your rig. Free your hands from camera; remotely start & stop video; trigger the shutter whenever and wherever you want. 

Note: V remote control is compatible with any camera having 2.5 mm jack plug.
Fits most rig handles , Camera strap also be held in your hand
IMAGE GALLERY
Quality and reliability now covers the Sony NEX-FS700 cameras