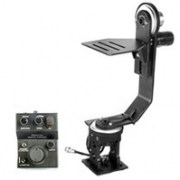 PROAIM Jr Pan-Tilt Head with 12V Joystick Control
PROAIM introduces its fully functional 2-axis Jr. Pan Tilt Head that offers 360-degree panning and tilting ability while keeping your camera safe and secure. The remote head is exceptionally engineered to bear maximum camera load capacity up to 6kg (13.2lb) or less with an ease. Featuring high-torque DC motors with 12v power and a joystick controller that provides smooth and accurate proportional joystick control.
Creative flexibility is a built-in component as the motorized Pan Tilt Camera head can also be used with crane jib arm, tripods and in other remote operating situations that dictate increased production value. It's a most unbeatable visual combination designed to please the most demanding professionals.
INCLUDED
-  Proaim Jr. Pan Tilt Camera Motorized Head
-  Joystick Controller
-  12volt AC Adapter
-  7.5 meter/24foot long Control Cable
-  3 Meter long 4pinXLR cable (for using 12VDC Battery Packs) 
-  Universal Adapter
-  Carrying Case with Custom-Fit Packing 
SPECIFICATIONS
  SPECIFICATIONS
 Pan Tilt Head Material
High Grade Aluminium
 Maximum Camera Package Load Capacity
6kg (13.2lb)
 Pan, tilt, roll movement
360 degrees
 Speed
Variable-controlled speed from 6 degrees/sec (low speed) to 51 degrees/sec (high speed)
Slowest Speed : 2 minutes
Highest Speed : 7 seconds
 Motors
Two high torque, coreless DC motors that rotates (pans) and tilts the head 360 degrees
 Gears
2- Brass Small Gears (Dia- 14mm),
2- Brass Small Pan Gear (Dia-22mm)
 Minimum height of head
18.5 inches
 Maximum height of head
22 inches
 AC Adapter input
AC 100 - 240V ; output - DC 12V -2A
 Cable Length
7.5 meter
 Cable Connector
4-Pin XLR
 Battery Cable
3 Meter long
 Weight of Pan Tilt head
2.7kg (5.9lbs)
 Box Dimensions
52 X 34 X 18 cm
 JOYSTICK CONTROLLER
 Joystick Controller
2-Axis
 Connectors
2x 4-Pin XLR male connectors
 Pan/Tilt Direction
Yes
 Upgraded with
Damping knob
 Weight of Joystick box
800grms
FEATURES
-  360 degree endless panning and tilting movement with reversal point. 
-  Control and adjust variable speed by "Speed" and "Dead Spot" Potentiometers on the control unit. 
-  Dead spot control determines center band of the joystick where no motion occurs. Set to prevent crossover with other axis when not needed. 
-  Outdoor use requires rain protection cover. 
-  The Pan Tilt Unit comes with a custom fit foam lined carrying case. 
-  Delivered with 'in place' wiring to Top and Bottom Motor. To power up, install the Power out to motorized head (4 pin connector) and 12 volt DC power (4 pin XLR) in rear of joystick controller box. 
-  100% Satisfaction Guarantee. 
TOP MOTOR

In Pan Tilt mechanism, XLR cables are built in to the motor, gears on the head are solid quality and the head is sheathed in plastic to protect the finish.
BOTTOM MOTOR

2-minute travel time to pan at 360 degrees at its slowest speed without stopping and 7 seconds at its highest speed.
MALE to FEMALE 4 PIN XLR CABLE

Assembled with high flexibility, standards and durability demanded by the industry. This supplied 3mt long 4pin XLR cable works for external 12v Battery pack.
AC ADAPTER

- Input - AC 100 - 240V
- Output - DC 12V -2A
HI-STRENGTH GEARS

The high strength aluminum & brass gears are engineered to with stand long hours of functions and has minimum wear and tear.
PAN TILT JOYSTICK CONTROL
- The Proaim™ Pan-Tilt Head comes with a remote Joystick control system, 7.5 meter Long Cable and AC Adapter.
- You may run the Joystick from a flat surface like tabletop or attach to the boom arm of Jib.
-For Outdoor shooting, you can use 3 meter. Long 4pin XLR cable with a 12volt Brick or Car Battery.
Smooth, accurate, proportional joystick control for outstanding footages
Superb Proportional Control 
- Joystick has proportional linear movement i.e. farther you move the joystick, the faster the head moves. 
- Joystick is touch sensitive:

Small movement – less speed, 
More movement – more speed. 
IMAGE GALLERY